Post 3063 members volunteer through out the year in support of veterans, servicemembers, and their families. If you are interested in volunteering with the post, please contact us.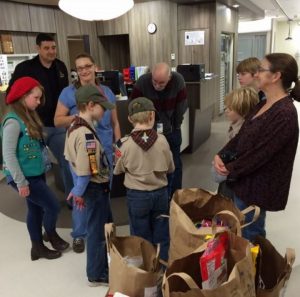 Below is a 2015 article written by Post 3063 Quartermaster, Harold Rodenberger, that highlights some of the good work our Post members perform in the Seattle area.
Our VFW Members Helping the Community 
Sometimes people ask me, "What does the VFW do?" To answer, I decided to wrap some of the activities of November and December into one article showing the members of our post (with a few extra helpers) doing good in the community.
November 10th saw Clark Silliman presenting a talk to the North Hill Community Club in Normandy Park. He discussed the VFW from our National Headquarters down to our Post, explaining what all the levels do and what programs we have to support veterans.
Here is a list of additional volunteer activities:
At Catherine Blaine K-8 School in Magnolia, Comrades Engler, Griffith, Richardson and Rodenberger attended the Veterans Day assemblies on December 10 to share with the students their experiences in the military services.
Members visited Evergreen-Washelli, Crown Hill and Lakeview Cemeteries to honor veterans.
Gail Engler and Elizabeth Servey passed out Buddy Poppies at the Magnolia QFC.
Auburn hosted their Annual Veterans Day parade with our members Chuck Murrell, Elizabeth Servey and Aaron Stoltz participating.
Clark Silliman presented his VFW speech at the Ladies Circle at Our Lady of Fatima Church in Magnolia.
Our members visited the VA Hospital where our post members Jesse Basher, Gail Engler, Jon Guncay, John Hoglund, Justin Mamallo and Elizabeth Servey, along with members of her scout group, visited with patients and handed out snacks and drinks.

The Post donated the use of its kitchen to their adopted unit, HHC 81st ABCT.

On Thanksgiving Day Comrades Basher, Guncay, Mamallo, Servey and Stoltz from our post visited the VA Hospital again bringing cheer, conversation and snacks to the patients and staff.
During this period several of our members visited our 95-year-old member, Herb Leake, in his new residence in a local retirement home.
Also during November each year our post sponsors local young people who participate in the VFW Voice of Democracy and Patriot's Pen programs. This year our post sponsored Savannah Bertolli in VOD and Rebecca Semere in Patriot's Pen. We presented each of them a $50 check for participating and Savannah placed third in our District 2 judging.
December 4-6 we donated the use of our kitchen to our adopted unit, HHC 81st ABCT, donated $250 for gift cards for the junior enlisted families and helped celebrate at their Christmas Party on December 6th with elves and other helpers.