Post 3063 invites all veterans who have served in foreign campaigns to contact our VFW Post and become a member.
Our post is a service-oriented organization that supports our membership, veterans, their families, and our community.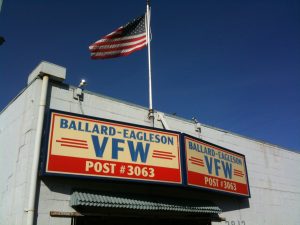 We have our regularly scheduled members-only meeting on the first Thursday of every month at 7 p.m. (food provided). We also have a social dinner on the third Thursday of every month at 6:30 p.m.
Hall rental available to the public
Our post's hall is available for rent to the public for special events. Please see our Hall Rental page for more information.
Flag disposal and book donations
Ballard Eagleson VFW Post 3063 willingly accepts for proper disposal all United States Flags that are no longer wanted, or are worn and no longer fitting for display.
In addition, the post willingly accepts donations of books and DVDs having to do with military history or topics, in any historical era, to add to its military veterans' lending library.
Flags and books may be dropped off at the post during office hours.
Ballard Eagleson VFW Post 3063 is located in the Ballard neighborhood of Seattle at 2812 NW Market Street. The office is open Thursdays and Saturdays from 1 to 5 p.m.