By Harold Rodenberger
I never had a chance to speak with Bob Drew. He was an old man when he joined our post. Those who did meet him were impressed with his quiet demeanor and presence of mind. Many of those who knew Bob weren't aware of his background. He was just another old man who didn't ask for any special attention or help. He was part of The Greatest Generation and like a lot of old people in our society, he flew under the radar living a quiet life in his old age.
But, when he was younger, what a full life he led!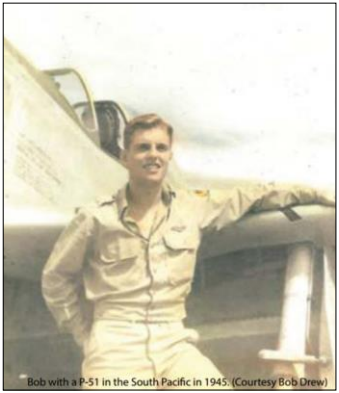 During WWII he was a fighter pilot flying P-38's and P-51's in the Pacific Theater. After the war he joined the California National Guard and went to work for Douglas Aircraft as a test pilot, flying the Navy AD Skyraider and F4D Skyray. Working with Douglas until 1962 he flew all manner of fighters, single and multi-engine military and commercial aircraft and anything else that took off. During his test pilot days he flew with future astronauts Alan Shepard and Deke Slayton and other famous test pilots. Since he was attracted to speed, he also flew Formula One pylon racers from 1953 to 1993.
In 2000, Bob became a docent for the Museum of Flight. If you happened to have him as a guide while visiting the museum you were in for great guided tour since he had flown many of the planes on display. You can read an article on Bob's days at the Museum in our May 2017 newsletter.
We draped our charter to remember Bob at our meeting held on July 11, 2019, and it remained draped in his honor for thirty days. 
Robert E. Drew, WWII fighter pilot, supersonic test pilot, friend of astronauts, Formula One Pylon Racer, museum docent and member of our post, has made his last flight.